Consists of a schedule done in Excel, where you can see a great part of the chars that they have been released by different persons, good, bad works, clones, etc...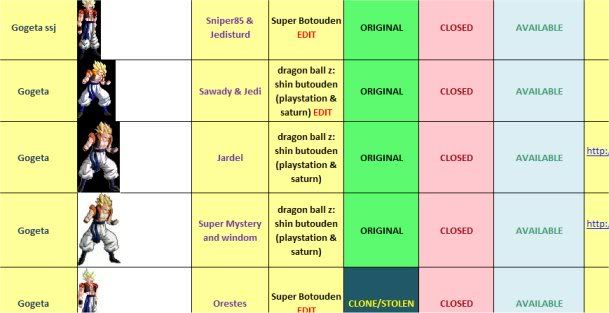 The list approaches the 600 chars of 900 that exist in whole the net...
with the most important description of every work, as the name of his authors, where from it was edited, if it' is original, edit or clone, if it's available, it is private or is lost. Beside containing defined the chars that are open sourse, separated in code and sprites type of permission.
This way, the list have two important functions:
1. Inform what chars exist, it's easier to ask or to look for them.
2. For those that want to begin in spite of doing remakes or taking something of these works, know which can freely and which must to ask for the respective permission.
Download:
http://www.4shared.com/file/89365479/18192d90/DBZ_MUGEN_LIST.html